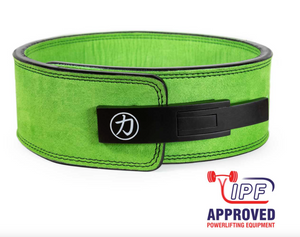 ONE OF OUR BEST POWERLIFTING BELTS
Our popular lever belt helps you build and maintain intra-abdominal pressure to stabilize and protect your spine, when lifting. The belt has a material thickness of 10mm and a width of 10cm. Regardless of your personal training level, the belt is suitable for all athletes. 

IPF APPROVED - FOR TRAINING AND COMPETITION
This belt is IPF approved and can therefore be worn during powerlifting training and also during competitions. The belt is not only suitable for powerlifting training, but also for other strength sports, such as strong(wo)man. You can securely fasten the lever belt with the riot steel buckle from our shop. The buckle itself can withstand loads of up to 400kg. The belt is black with white logo embroidery in the middle.
SPECS
Material: Amara - synthetic leather
*Closure: riot steel buckle
Six available belt sizes
Width: 10cm 
Thickness: 10mm
IPF approved